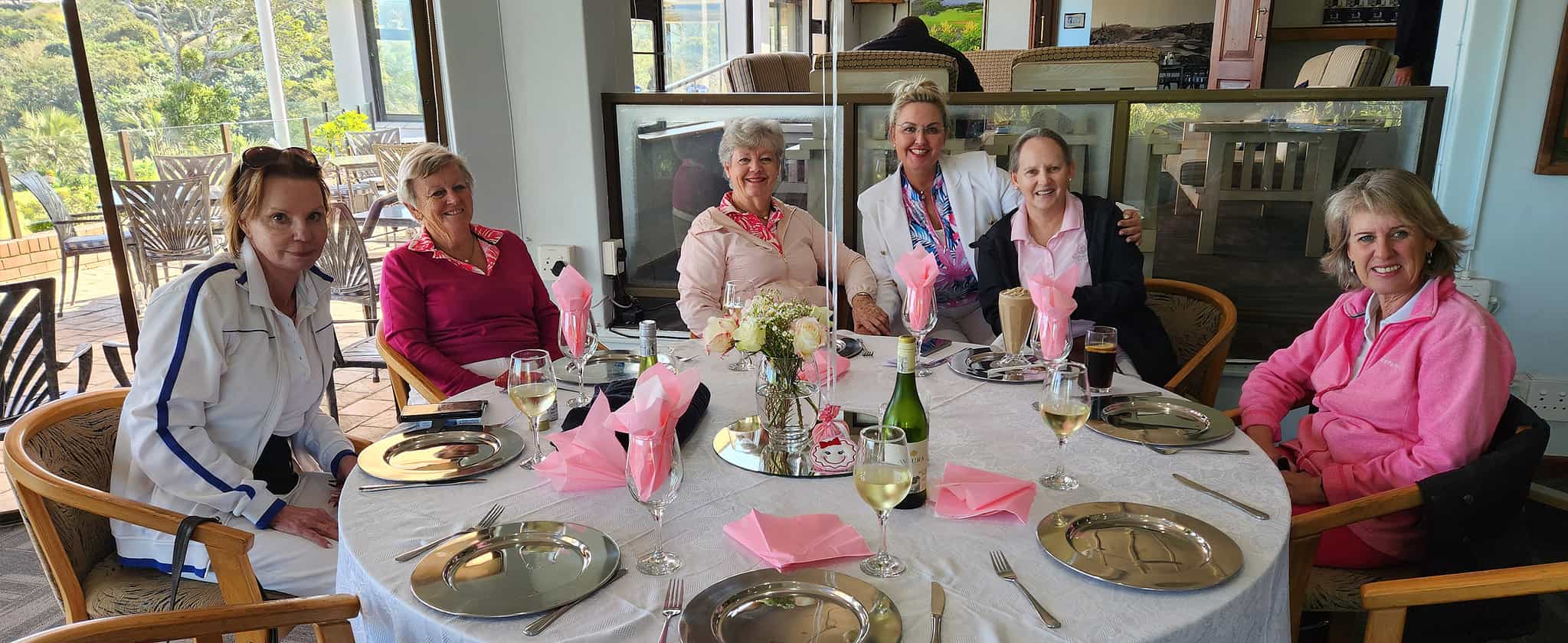 A crisp morning with a moderate wind was the start to the Southbroom Ladies Open Day
A lovely turn out as well as some visitors from our nearby clubs. San Lameer, Margate, Port Shepstone and Kokstad. All the Ladies looked so pretty and elegant in their pink and white outfits. We were warmly greeted by Derek, Sheena and Dane and we each received a goodie bag, compliments from the Southbroom Pro-shop and the Ladies committee. Delicious muffins, tea and coffee were on offer as we all prepared to tee off.
THE TEE-OFF
Our 4-ball tee-ed off on the 10th and we had a troop of naughty monkeys making a fuss in the trees and some resident Egyptian geese gaggling along. The fairways were beautifully manicured and the greens in mint condition. I of course, being new, found almost every single hazard!
I even found a whole lot of black jacks that clung stubbornly onto my snow-white pants! Eventually my drives found the fairways and after my first 4 disastrous holes, I started to settle in and to swing easier.
Our fourball had a delightful time with lots of laughter and excitedly encouraging each putt to fall not caring if we were not on the same team or not. For me it is the love of the game and to applaud and cheer in absolute delight when a great shot is hit! The wind decided to increase on our second 9 and the course conditions became tougher.
Especially when one is facing a par 5 with the wind howling towards you! But when you turn it is a magical feeling when the wind takes your ball in the right direction to the green! "Fly ball fly"! We signed off on the scores after double checking each other's score cards. We were then treated to a delicious lunch, served by the friendly Southbroom Golf Club staff.
Our sweet treat were delicious ice-cream cones. The dining area was beautifully decorated, all in pink and white, with flowers and balloons.
The room was full of excited chatter and laughter. We all settled down for prizegiving and on 42 points the winners were Gwyn Wright and Solange Fox, winning a round of Golf with a cart & Srixon Golf Balls.
Second on 41 points
Michelle van der Hoek and Eli Bachmann, winning cheese boards and chocolates sponsored by Marion Cloud.
Third on 41 points
Di Nadauld and Nataha Cotterell winning a Sensasia Day Spa voucher.
Nearest to the pin on 11th
Eli Bachmann and on the 14th was Heleen Hissey.